The 5 Uses of TOUGHBOOKS in the Construction Industry
TOUGHBOOKS are extremely valuable tools for the construction industry today. The devices can withstand diverse environments and have distinct features that allow managers to run different applications and optimize operations. Let's take a look at some of the ways that construction workers use TOUGHBOOKS.

Related Blog: How Are TOUGHBOOKS Used in the Manufacturing Industry?


1. Design and Visualization
TOUGHBOOKS are especially helpful in the construction industry when creating structural designs using Computer Aided Design (CAD) tools like AutoCAD, ArchiCAD, FastCAD, and MiniCAD. TOUGHBOOKS make it simple for design professionals to use CAD tools to develop structural designs by digitally manipulating text, circles, rectangles, and lines on the screen. CAD tools allow designers to scale, mirror, move, delete, copy, and rotate a visualization.
In addition, designers can use TOUGHBOOKS to simulate visualization and animation systems to generate their clients' static, realistic, and moving images. This means a client can experience and interact with a building through virtual reality technology through simulation.


2. Building Engineering Applications
The construction industry is always evolving to create safer, more energy-efficient, and visually appealing homes and buildings. As these demands increase, building design processes have become more computer-based allowing them to run more tests on the design before construction has even begun. TOUGHBOOKS can run programs that accurately simulate a building's structural performance at the design stage. This allows designers to identify and solve any issues from the start and develop alternative designs.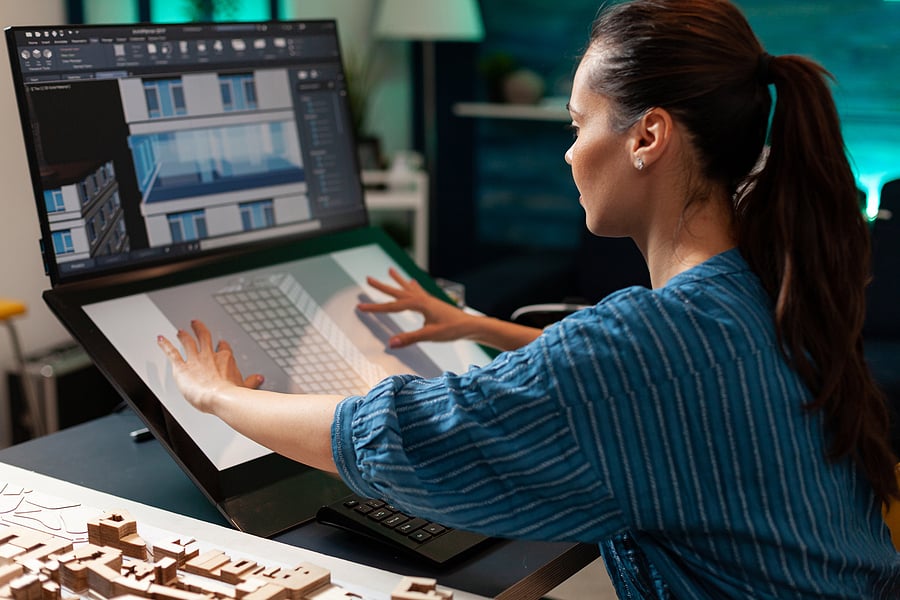 3. Budget Control
Cost is a vital metric in the construction sector. For budget control, contractors and subcontractors must make accurate cost estimations and project accounting. Project managers achieve this by using sophisticated computer programs optimized to run on a TOUGHBOOK, enabling managers to estimate and track project spending.
A TOUGHBOOK enables project managers to run solutions that count, measure, compute and tabulate volumes, areas, and lengths. The device is well packaged to run different cost estimation solutions allowing the input of large data volumes, processing, and generation of accurate results in a neat, organized, and consistent manner. Project managers can also integrate cost estimation programs with equipment, material, and labor databases.


4. Planning, Scheduling, and Site Management
TOUGHBOOKS are well-packed to run programs that assist on-site managers in evaluating, planning, executing, and adopting the most effective and efficient construction operations. Project managers can access planning packages like Power Project, Primavera, and Microsoft Project to schedule and plan critical construction activities.
A TOUGHBOOK proves its efficiency capability by running applications that track and log internal construction processes like ICON, Presto Control, and JobMaster.


5. Facilities Management
Project managers use TOUGHBOOKS to run Computer Aided facility management tools that focus on a building's operations life cycle costs. They achieve this by using the TOUGHBOOK to tabulate the maintenance and operational costs of a building by analyzing different essential databases.
Facility management enables project managers to store human resource data and the services they provide at different stages of a construction project. It allows project managers to shift their services from one construction set to another.
---
TOUGHBOOKS are an important tool in the construction industry. If you are looking to implement these products in your facility contact us today to get started!